What are Fuglies Prescription Sunglasses?
Fuglies prescription sunglasses not only look cool, they give you all sorts of great protection when you're working or playing outside.
Fuglies Prescription Sunglasses for the Great Outdoors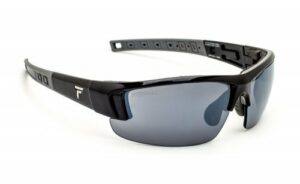 Fuglies is an Australian brand that took the world by storm when it introduced its line of shades. It's no surprise why: Fuglies prescription sunglasses are awesome-looking, comfortable, ventilated, shock-absorbing, and ANSI-approved safety glasses to boot.
If you're looking for prescription sun protection in the US, imagine what kind of protection the Aussies are looking for in the brutal heat of the Australian outback. That's the sun and outdoor protection strength that Fuglies bring to the table. They are extremely durable, resistant to the elements, and… well, not fugly.
Here's why Fuglies prescription sunglasses are great:
They're lightweight and impact resistant, giving you ample protection during sports, outdoor activities, and simple basking in the sun.
They come with removable soft rubber foam inserts that not only protect you from dust and debris getting into your eyes. The inserts on Fuglies prescription sunglasses block peripheral glare, are ventilated to prevent fogging, and are removable for when you don't need them.
Fuglies are available in a plethora of prescription lens options. Polarized, Transitions, clear, tinted, drivewear, Fog Free coating, mirror coatings, anti-reflective coatings… you name it, you can get it on a pair of Fuglies to make them just right for you.
Fuglies prescription sunglasses are rugged. Any pair of sunglasses designed to withstand the harsh climate of the Australian outback has got to be able to hold its own in the relatively mild American outdoors. Though they might not stand up to a grizzly attack. (We're not willing to test it.)
Fuglies look great. They come in several different wraparound styles to accommodate all face shapes and style preferences. So you can get great sun protection and protection from the elements, while looking awesome. Time to brush up on your Australian accent!
Fuglies are great sunglasses. They are well-rounded, durable, and will last you the time it takes to learn Australian slang, fly over to the outback, and wrestle a dingo. (We are also not willing to test this claim.)
If you're looking for prescription sunglasses that need to keep up with a true outdoorsman or -woman, look no further. Fuglies prescription sunglasses are perfect for extended trips in the backcountry, relaxing days on the beach, and everything in between.
If you have questions or comments about Fuglies prescription sunglasses or how to order them, leave a comment below or give us a call! Thanks for reading, and enjoy your shades!