What Lenses are Best in Prescription Nike Sunglasses?
With spring around the corner, you're maybe looking for a new pair of sunglasses that can hold up longer than your previous pair. You also want something stylish without having to pay a fortune. Or, you may need ones with prescription lenses so you don't have to switch between your regular glasses and sunglasses throughout the day.
Nike sunglasses are one of the best choices, though you obviously want customization based on your style preferences. What's so great about Nike is they listen carefully to consumers on what they want. They understand prescription sunglasses need more than just standard lenses to appeal to those who care about looking good.
So what lenses are best in prescription Nike sunglasses? The company gives you great choices in the way of lenses going from standard, polarized, mirrored, to gradient.
Let's take a look at what might work best for your personality and lifestyle.
Standard Lenses
You may want something standard in your prescription sunglasses, even if this doesn't negate other great features on Nike eyewear. One thing you'll discover with all standard lenses is that they still come in different colors. For instance, the Nike Avid SQ Gunmetal sunglasses come with brown lenses to give you something unique.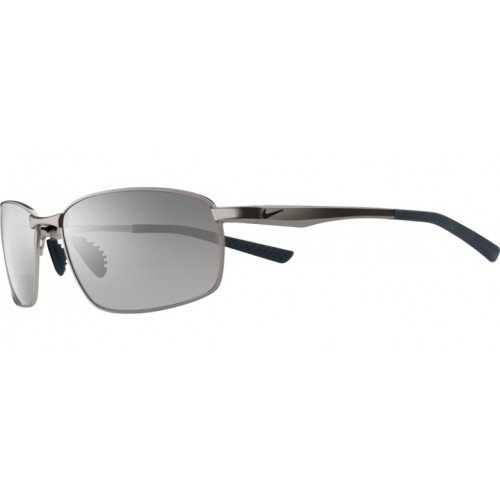 It's also possible to get other standout lens shades like gray, green, and light blue. All of these let you define your own personal style without having to adhere to something basic.
Every pair of standard lens Nike sunglasses lets you choose your own frame styles as well to help you give a match in color, or some stylish contrast.
Despite these lenses being standard, each lens is extremely durable so they won't shatter when dropped or hit by an object. Nike lives up to their name in durability through all their eyewear, and it's why they continue to lead.
It's not to say you don't have some more advantages trying other lenses. Depending on what you do outdoors, you may prefer polarized, mirrored, or gradient lenses instead.
The Benefits of Polarized Lenses
Nike gives you consistency in features, no matter what lenses you choose. All the surrounding features you'll find in the standard lens eyewear above are available in polarized lens sunglasses.
What makes polarized lenses so great is that they block disruptive glare as Nike explains on their website. Those of you who wear sunglasses while skiing (or while on water) know the sun reflects on these surfaces and can easily disrupt your vision.
Nike's polarized lenses prevent reflective light from creeping in at all angles. In cases where you're training for a particular sport, this kind of lens is essential.
Mirrored Lenses on Your Nike Sunglasses
With Nike's mirrored lenses, you'll be able to enjoy even more protection from reflective light and other potential eye damage. The coating on these is very thick, but helps make a great fashion statement. Thanks to the durability, you're protected from flying debris, insects, dirt, sand, wind, and rain.
During those times when you have to work or train in inclement conditions, these lenses are your best bet. As with the other sunglasses above, you have different colored lenses to choose from.
Gradient Lenses While Driving
Choosing Nike's gradient lenses, you'll have something different in appearance since these have tinting from the top down. The top of the lens is darkest, making them a popular fashion choice.
However, they're perfect if you have to drive for long hours because the lenses block overhead sunlight from the windshield. You'll still get protection from the sun when outdoors, yet be able to see well when walking indoors.
You can buy all of these prescription Nike sunglasses from us at Rx-Safety.com.
Contact us to take a look at our comprehensive inventory and discounted prices.