When is the Best Time to Buy Glasses Online
When is the Best Time to Buy Glasses Online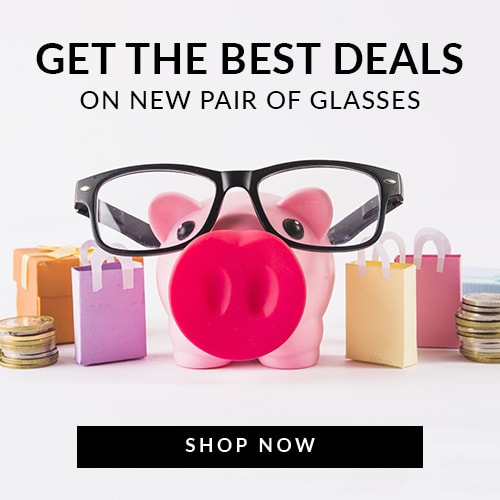 Buying glasses online is always a convenient option. There are endless styles, options, and brands available, all at your fingertips and all available for delivery right to your door. But the sheer volume of options can be overwhelming and if you're looking for the best possible time to buy glasses online, there are a few different things to think about.
If you're looking for the best time to purchase a new pair of glasses, these are a few times where you're the most likely to get the best deal on a new pair of glasses.
When to Buy Glasses Online
Cyber Monday
Of course one of the best time to buy a pair of glasses is the best time to buy anything online- cyber Monday! You'd be hard-pressed to find a store that doesn't have some kind of deal going on during that time period. Whether you're looking for a new pair of prescription glasses or the latest pair of safety glasses to keep yourself safe as you work, there's any number of sites you can check for a great deal on your glasses.
January
Everything slows down in January in the retail world, and glasses purchases are no different. After the hustle and bustle of the holidays, leftover merchandise is typically marked down. It's a great time to look into any new models you were eyeing over Christmas to see if they're still available. Most vendors will have restocked or overstocked for the holidays. After the new year, you'll likely be able to find a markdown on those models and stock up on a new pair of glasses.
General Sales
If you have your eye on a specific model or glasses type, you should take a look at the online store where you find it and sign up for notifications. Most stores run regular stores and will allow you to add items to a wish list. You might even be able to request notifications for markdowns or special deals on select models or item types.

What to Know Before You Buy Glasses Online
Buying your glasses online is a convenient option of course, but it can quickly turn into a frustrating process if you don't go about it carefully. You'll need to go into the purchase with an understanding of a few different things. Whatever type of glasses you're trying to find, you'll be able to find them online, but the number of options can be overwhelming. So as you go through cyberspace looking for your perfect pair of glasses, these are a few points to keep in mind.
Know your prescription.
You can't get a new pair of glasses if you don't know what prescription you have. They won't help you see better no matter how good they look if they aren't the right prescription! Make an appointment with your ophthalmologist to confirm your prescription and make sure nothing has changed. You can also ask questions about the best glasses to purchase based on the ophthalmologist's experience. You can ask about lenses to help with eye fatigue and headaches or any other symptoms that you're experiencing.
Decide on your lens options
There are a few different options for lenses depending on what you're looking for.
Clear Lenses– Clear lenses are the most common choice for lenses. They're exactly what they sound like. They are a completely clear option that allows you to see the world clearly without any other impediments. They are also the least expensive option.
Clear with Blue Blocker– Blue blocker lenses help with eye fatigue and headaches from staring at screens for extended amounts of time. These lenses block all ultraviolet light up to 420 nanometers which can cause damage to your eyes. If you constantly feel like you're dealing with eye strain, these are a great option for you.
Transition Lenses– Transition lenses do exactly that- they transition between indoor and outdoor light to protect your eyes at all times.
Polarized lenses– Polarized lenses are designed to keep the reflected light from cars, water, and snow from damaging your eyes. These are a great investment for people who are active and spend a lot of time outdoors since they protect your eyes more effectively.
Think About Your Current Frame
Any new frame is going to be an adjustment for you. The way your current frames look, feel, and appear in your vision will feel different no matter what. So before you make a dramatic change to your look think about how it will differ from your current glasses.
Smaller lenses might limit your field of vision. Larger lenses might feel ungainly. Heavier frames might hurt by the end of the day and lighter frames might be unsteady. It might not change your decision, it's a good idea to make sure you know what kind of change you might be making if the frames you're purchasing have a different shape or size.

Do your research.
Make sure you look at product reviews, websites, and product descriptions before you decide on anything. There are plenty of options and when you narrow it down to a specific look or style, you'll be able to look at different brands or price ranges to decide which one will work best.
Stay with name brand frames.
Brand names are brand names for a reason. Generic brands are often less reliable and more likely to need to be replaced sooner. You might save money upfront, but it's unlikely that you'll save money in the long run when you have to replace your glasses more often. It's a good idea to invest in a high-quality pair of glasses and take care of them rather than have to replace your glasses annually or worse, while on a trip or at work.
Buying your glasses online is always an option and at Rx-Safety we are always happy to help you find the best option for your face and a prescription that meets your needs. If you're looking for a new pair of prescription safety glasses, contact us here! Our experts would love to help you!