FREQUENTLY ASKED QUESTIONS
Answers to our most frequent asked questions are just a click away.
---
---
NEED MORE HELP? CONTACT US!
---
ORDERS
---
HOW DOES THE PROCESS WORK?
The Rx-Safety order process is simple. Whether you are shopping for a prescription order or just a regular frame, please see the steps below:
PRESCRIPTION ORDERS
Choose your favorite frame on the RX-Safety website.
Click 'SELECT LENSES' to select your lens type, tint, and coating.
Click 'NEXT' to upload or fill out your prescription information.
Click 'NEXT' to add any comment you think is important for us to know. This is an optional choice.
Click 'ADD TO CART' to get your prescription frame added to the shopping cart and ready to check out.
If you need additional information about a specific option we carry, just click 'LEARN MORE'.
The subtotal of your cart, along with a breakdown of the options you selected is visible at the bottom of the page.
ATTENTION: Please be advised that all prescription orders are non-refundable.
NON PRESCRIPTION ORDERS
Choose your favorite frame on the RX-Safety website.
Click 'BUY FRAME' to buy just the frame with standard, non prescription lenses.
This option is perfect for customers still deciding which frame is right for them. Non prescription frames are 100% returnable as long as they are returned in new condition.
HOW LONG DO ORDERS TAKE?
Our production time varies according to the frame and lens type that you choose.
Prescription orders generally take 7-10 business days to be completed and shipped.
Non-Prescription orders generally take 3-5 business days to be shipped.
HOW DO I GET AN ORDER STATUS?
You may contact customer service via Live Chat on our website or by phone at 888-245-6638 to obtain the status of your order. We will email you a tracking number once your order has been finalized.
IF MY PRODUCT IS BACKORDER WHY IS IT AVAILABLE ON THE WEBSITE?
Our RX-Safety team works to keep our products as up to date as possible.
Sometimes, more than one order for the same product with low stock is placed, causing it to become backordered.
The order placed first will be prioritized by our processing center. All the other orders will be marked as backordered.
If this occurs with your order, please contact our customer service team. We will be happy to help you with reaching the best solution, including showing you available options that match your needs.
WHY DO I NEED TO SEND MY FRAMES FOR A LENS ORDER?
At RX-Safety, our production process for lens orders begins with the tracing of your frame. This process allows us to cut your lenses to the perfect shape and size.
Also, it is best for us to ship you your lenses already installed in your frames. This lowers the risk of damage to the lenses.
Therefore, we ask you to send in your frames for a lens order to ensure a perfect fit and longevity for your new lenses.
WHERE DO I ENTER MY PRESCRIPTION?
Once you find the frame you are interested in, simply click the 'SELECT LENSES' button. This will take you to the lens options page where you can select the type of lenses you prefer, as well as any tints or coatings. Hitting the "NEXT" button will then take you to the prescription entry page. At this point, you can select your prescription numbers from the drop down menus, and/or upload a copy of your prescription.
PAYMENT
---
WHAT METHODS OF PAYMENT DO YOU ACCEPT?
We accept all major credit cards as well as any HSA and FSA cards.
HOW MUCH WILL MY GLASSES COST?
The cost of your prescription glasses will be dependent on the frame you select as well as the lens options. Once you have selected all of your options, your subtotal will be visible at the bottom of your cart.
WHERE DO I ENTER MY COUPON CODE
While in your shopping cart, the coupon code can be entered into the black field between the list of items in your cart and where you enter your billing and shipping information.
DO YOU TAKE INSURANCE?
Unfortunately, we do not accept insurance directly. However, you can submit your Rx-Safety eyewear purchase for reimbursement to your insurance company, CLICK HERE to learn more details.
SHIPPING & RETURNS
---
CAN YOU SHIP INTERNATIONALLY?
RX-Safety does ship internationally.
Please note, RX-Safety is not responsible for any duties, taxes, or brokerage fees that may be charged to your shipment.
These fees are the responsibility of the customer and we do not know ahead of time what these fees may be.
CAN I RETURN MY GLASSES IF THEY DON'T FIT?
Any pair of non-prescription glasses may be returned for a full refund, as long as they are in new condition.
If you purchased prescription glasses, please contact our RX-Safety customer service team. They will be able to provide you with the options we offer to get you into the right pair of glasses.
I PLACED AN ORDER FOR PRESCRIPTION GLASSES 3 DAYS AGO WITH NEXT DAY AIR SHIPPING AND I HAVE NOT RECEIVED IT YET. WHERE ARE MY GLASSES?
Your order will ship via the method you select during the checkout process.
Unfortunately, the method of shipping that you choose will not cut down on production time.
Prescription orders can take up to 10 business days to be completed before shipping.
Therefore, selecting Next Day Air does not mean that you will receive your order the next day. It only means that UPS will ship it to you in one day from the time that they pick up the package from our facility.
Attention: Due to COVID-19, production and shipping times could experience slight delays.
WHERE DO THE GLASSES SHIP FROM?
Our RX-Safety facility is located in New Jersey, USA.
WHERE ARE THE FRAMES MANUFACTURED?
Our RX-Safety frames are proudly American-made and are manufactured in our facility in Middlesex, New Jersey.
PRESCRIPTION
---
WHAT DO THE NUMBERS ON MY PRESCRIPTION MEAN?
OD – RIGTH EYE information
OS – LEFT EYE information
OU – BOTH EYE information
SPH – SPHERE
This indicates the strength of lens required to correct your focus.
NEARSIGTHED – there is a (-) minus sign next to your number -i.e. myopia (difficulty focusing on distant objects).
FARSIGHTED – there is a (+) plus sign next to your number -i.e. hyperopic (difficulty focusing on close objects).
CYL-CYLINDER
Identify how much lens power in your prescription, as well as for astigmatism (difficulty focusing at certain angles). It always comes after sphere power in a prescription.
NEARSIGHTED ASTIGMATISM – There is a (-) minus sign next to the number.
FARSIGHTED ASTIGMATISM – There is a (+) plus sign next to your number.
IF YOU HAVE A CYLINDER, YOU MUST ALWAYS HAVE AN AXIS.
AXIS
The AXIS specifies where the astigmatism is on your eyes. IT IS ONLY PRESENT IF THERE IS VALUE IN YOUR CYL BOX – IF YOU HAVE A CYL, YOU HAVE AN AXIS.
The measurement is in DEGREES and the value ranges is between 0 and 180.
ADD _ ADDITIONAL CORRECTION REQUIRED FOR READING
Used to make reading, bifocal or varifocal glasses. Indicates how much power is required 'on top' of the prescription for near or intermediate glasses.
PRISM – REQUIRED TO CORRECT LAZY EYE
This is included with a prescription to correct special conditions or eye disorders (like squints) that requires the focused image to move positions.
WHAT IS PUPIL DISTANCE?
Pupil distance (PD) measures the distance between the center of your pupils. This measurement is used to determine where you look through the lens of your glasses and should be as accurate as possible.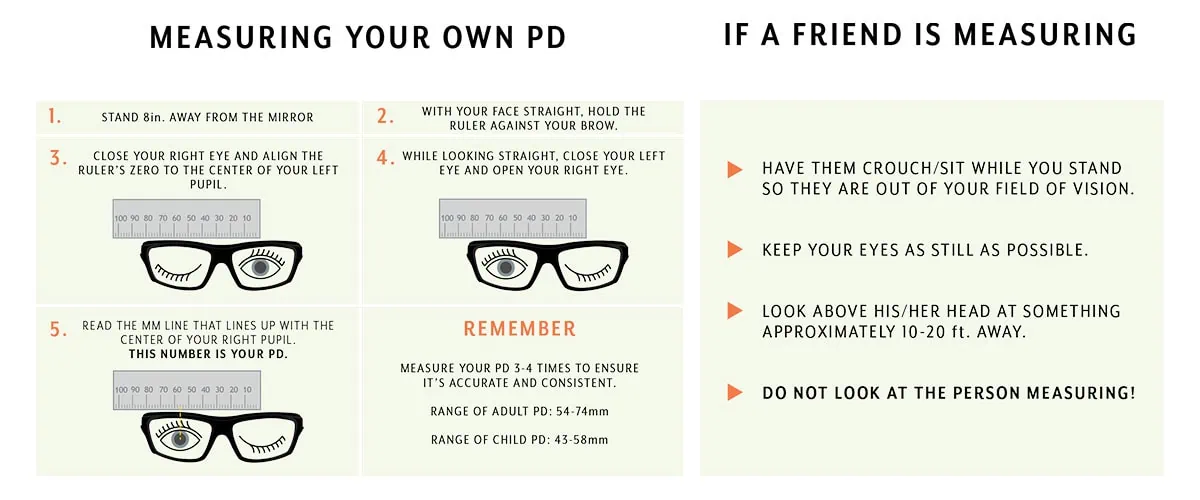 WHAT IS SEGMENT HEIGHT?
Segment Height (SH) is the vertical distance between the bottom of the lens in your frame and the bifocal line on progressive lenses. The Segment Height is essential because it will determine the proportions of your lens.

LENS REPLACEMENT
---
WHERE DO I SEND MY FRAMES?
Please send your frames to:

Lens Replacement
123 Lincoln Blvd, Middlesex, NJ 08846.
Be sure to include a COPY OF YOUR ORDER & COPY OF YOUR PRESCRIPTION.
NOTE: Please do not include any cases. RX-Safety is not responsible for any cases that are lost during production if the customer chooses to send a case.
HOW DO I GET MY SHIPPING LABEL?
Once your order is entered into our system, a member of our customer service team will email you your shipping label and the instructions for sending your frames to us.
Depending on the time the order is placed, please allow up to 24 hours to receive your label via email.
CAN YOU MAKE PRESCRIPTION LENSES FOR MY RA-BANS? WILL THEY STILL BE RAY-BAN LENSES?
Yes, we can make prescription lenses for your Ray-Bans frames.
We use the same lenses as Ray-Ban, but they will be manufactured in our RX-Safety optical lab.
CAN YOU MAKE LENSES FOR A FRAME I ALREADY HAVE?
We absolutely can! Please refer to our LENS REPLACEMENT PAGE to begin your order.
GLASSES INFORMATION
---
HOW DO I KNOW IF MY FRAMES WILL FIT?
All of our RX-Safety frames have the option to be purchased as non prescription before having lenses made. This is ideal for the opportunity to try them on and ensure a proper fit.
You can also reference the frame markings on the inside of your current frames to narrow down what size may fit you best.
CLICK HERE to see how to determine the size of the glasses you have.
HOW DO I KNOW WHICH FRAME WILL WORK WITH MY PRESCRIPTION?
We have frames that can accommodate all kinds of prescriptions. Higher prescriptions should focus on frames that are flat and have no curve to the lens.
If you are unsure if your prescription will work for a specific pair of frames, you can reach out to a member of customer service via Live Chat on our website or by phone at 888-245-6638. Our team will be able to assist you in finding the correct pair for you.
WILL MY FRAMES AND LENSES BE ANSI STAMPED?
All safety frames on our RX-Safety website will have the ANSI Z87 marking on the frame itself.
In addition, all prescription lenses will be stamped with our "PS" makers mark to indicate the lenses are safety approved.
WHAT ARE THE DIFFERENCE BETWEEN SINGLE VISION AND DIGITAL SINGLE VISION?
Digital single vision is similar to standard single vision in the sense that the entire lens is the same prescription. However, they differ in terms of quality. CLICK HERE to learn more.
DO YOU MAKE TRIFOCAL?
Yes, we are able to make lined trifocals as well as the no-line progressive bifocal.
WHAT IS THE DIFFERENCE BETWEEN POLYCARBONATE AND TRIVEX?
Trivex is lighter than polycarbonate and offers better clarity. A polycarbonate lens can be made to be thinner.
WHY ISN'T ANTI-REFLECTIVE COATING RECOMMENDED FOR OUTDOOR USE?
Anti-Reflective coating is extremely delicate.
Any dirt or dust present on the lenses can scratch away at the anti reflective coating over time.
Anti-Reflective coating is better suited for those who are in front of a computer all day or for drivers to reduce the glare of the sun/oncoming headlights.
WHAT IS A BLUE BLOCKER?
Blue blocker lenses filter out the blue light that is emitted from everyday electronics such as phones, computer screens, or tablets.

Blue light from electronics can cause eye fatigue and headaches.
WHY CAN'T I GET A MIRROR COATING WITH TRANSITION LENSES?
Applying a mirror coating to transition lenses can prevent the lenses from transitioning to their full potential.
In addition, when a mirror coating is applied to transition lenses, the mirror coating will not appear to be a solid mirror in appearance as it is with sunglasses.
WILL BLUE BLOCKER COATING CAUSE THE GLASSES TO HAVE A BLUE TINT?
There may be a slight blue tint to the lens, but it will not impact your vision in any way.