Single Vision Lenses Vs. Digital Single Vision Lenses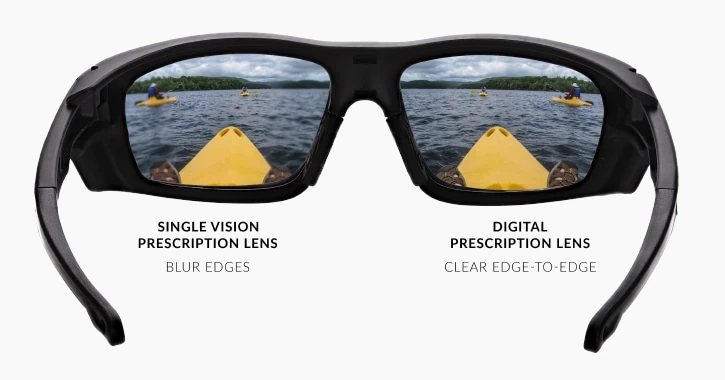 Ordering a new pair of glasses? Having a hard time with all the different choices? One thing you might have noticed while searching for your perfect pair is "single vision" and "digital single vision". These options sound somewhat similar, but there are major differences between the two, and choosing one over the other can drastically change your experience with your new lenses. No need to sweat it, we're here to help you understand the basics of optics so you can choose the best glasses based on your personal needs.
What is Single Vision?
Single Vision lenses are for those who are nearsighted, meaning they have a difficult time seeing things from a distance or are farsighted, meaning they cannot see things in close proximity. Unlike progressive lenses, which are split to divide half the lens to magnification and the other half to distance, a single vision prescription fills the entire lens. These can also be made into "readers" for people who want an entirely magnified lens, rather than a lens entirely for seeing things in the distance.
What is Digital Single Vision?
Digital Single Vision is similar to standard vision in the sense that the entire lens is identical, however, it differs in the quality of the lens. You can think of Digital Single Vision as the upgraded, deluxe version of a standard single vision. The optics are much clearer, brighter, and accurate. Have you ever gotten a new pair of glasses and had that dreaded "fishbowl" effect? If so, it can look like you're seeing the world from a fish's perspective, through that thick glass bowl. Digital Single Vision lenses are made to particularly avoid this problem for glasses-wearers. Distortion is a major problem for those with high prescriptions, which these lenses also resolve. You can say goodbye to the blurry vision in the corner of your lenses. In addition, Digital Single Vision also provides wider peripherals and a larger range of vision.
Which is right for me?
If you're stuck on choosing which frame is right for you, then ask yourself the following three questions: Is my prescription higher than average? Is avoiding lens distortion of importance to me? Do I want better optics in my lenses? If you answered yes to any of these questions, then Digital Single Vision is most likely the better choice for you. Digital Single Vision lenses are especially recommended for those with high prescriptions due to the "fishbowl effect" and distorted vision which thick lenses can unfortunately cause. There's no right or wrong prescription for Digital Single Vision lenses; the choice is completely up to you! There is also no prescription too low for Digital Single Vision. Although we typically recommend these for those with higher prescriptions, they will increase the quality of optics for any size prescription.

But it costs more money, is it really worth it?
We know it costs more but before you shoot it down, think of it like this: that extra $20 from Single Vision to Digital Single Vision will only cost you a little over 5 cents a day if you buy new glasses in a year from now. We recommend Digital Single Vision over Single Vision not because it means more money in our pockets, but because it is the better of the two options for our customers. In our humble and honest opinion, the slight increase in cost is absolutely worth the large jump in quality.
Still confused on which is right for you? Call one of our optic specialists at 888-245-6638, and we can recommend which lenses are right for you! We can also be reached via email at service@rx-safety.com, and we offer 24/7 live chat services on our website.