Nike sunglasses and Nike prescription sunglasses are great for athletes and non-athletes alike. Throughout its long history, Nike has been celebrated for its commitment to quality. By purchasing Nike sunglasses and prescription sunglasses, you can be sure that you are purchasing sunglasses that provide the perfect mix of protection, comfort, and style.
Many Nike sunglasses and prescription sunglasses offer an extra-slim frame and low profile, meaning that you can easily fit your sunglasses under a hat. These glasses also contain durable, high-tension hinges, giving you the confidence that your sunglasses won't break with some minor contact. And let's not forget about protection. Nike optics sunglasses and prescription sunglasses can protect you from the Sun's harmful rays. If you are cycling on your favorite trail, for example, you can be confident that you are achieving maximum protection with maximum visual clarity.
Our collection of Nike sunglasses and prescription sunglasses is quite robust. Whether you are searching for casual sunglasses that you can wear on a lazy summer day or sleek sunglasses that you can wear on the job, you are sure to find them. Some of the colors that you can select from include black/silver, matte igloo, matte black, matte tortoise, and matte blue. This is just a sample, however. You will need to select a frame and see the available color options. Most frames let you choose between standard sunglass lenses and prescription sunglass lenses.
Nike continues to have one of the best reputations in global apparel. The company has certainly lived up to its reputation with its sunglasses and prescription sunglasses. Whether you are an athlete looking for your next pair or are simply looking for a pair of casual, sleek sunglasses for a bright day, you will certainly find them in our Nike collection.

On the field, on the court, and on a variety of different occasions, men around the world can be confident doing what inspires them the most–and all of this is possible with Nike Vision.
Nike Glasses fuels unmatched performance for a variety of sports. With enhanced optics, one can enjoy the thrills of a variety of sporting activities, including running, golfing, cycling, and more. Nike Sunglasses provides a high degree of technology and quality to ensure individuals can consistently rely on a clear and distinct vision. And if that isn't enough, Nike sports sunglasses are designed with a high degree of sophistication, allowing you to look stylish while performing at your ultimate best. Offering unbeatable eyewear with a tailored approach for many sporting occasions, you are sure to get refined vision with Nike Sunglasses, time and time again.

WOMENS NIKE SUNGLASSES
We've got you covered–defying vision is undeniable in these Nike women's sunglasses.

Nike Vision provides a tailored approach in women's sunglasses that outshines the competition. With advanced technology and a high level of design, women of all various walks of life can share optical excellence, with ease.
Nike women's sunglasses are made with a high level of quality. Made from durable materials, these Nike glasses are made to last, allowing you to carry them into many of life's favorable moments. They are also designed to enhance a host of environments, like our polarized and mirror tints, for instance, to bring greater visuals and definition in many occasions. Nike sunglasses redefine women's eyewear through their astonishing optical performance and consistency, transforming traditional notions of style and aesthetics in relation to femininity. Through this, women across the globe can experience distinct visions without apology.

Nike Vision's exclusive eyewear is more than just performance, but also, principle. We believe that children are not an afterthought but the forefront of movements for generations to come. With this, we've combined creativity and innovation for youth of many ages to enjoy as they tackle the future ahead.
We want children to see the world in color–literally. Nike Kids sunglasses line has a variety of lens tints to enhance and define new and exciting experiences. We also have quality frames with colorful accents that provide durability and aesthetics on many occasions. And if you need a prescription, we've got you covered, as many of our designs allow one to incorporate one's unique experience into quality styles. Nike kids' glasses also emphasize prescription glasses, as we understand the daily demands on many of our youth's vision. We even utilize our technological research to provide unwavering optics for our youth as well. So whether they'll be the next CEO, scientist, designer, or more–Nike Glasses for kids is a perfect component to incorporate into their journey.
NIKE PRESCRIPTION SPORTS GLASSES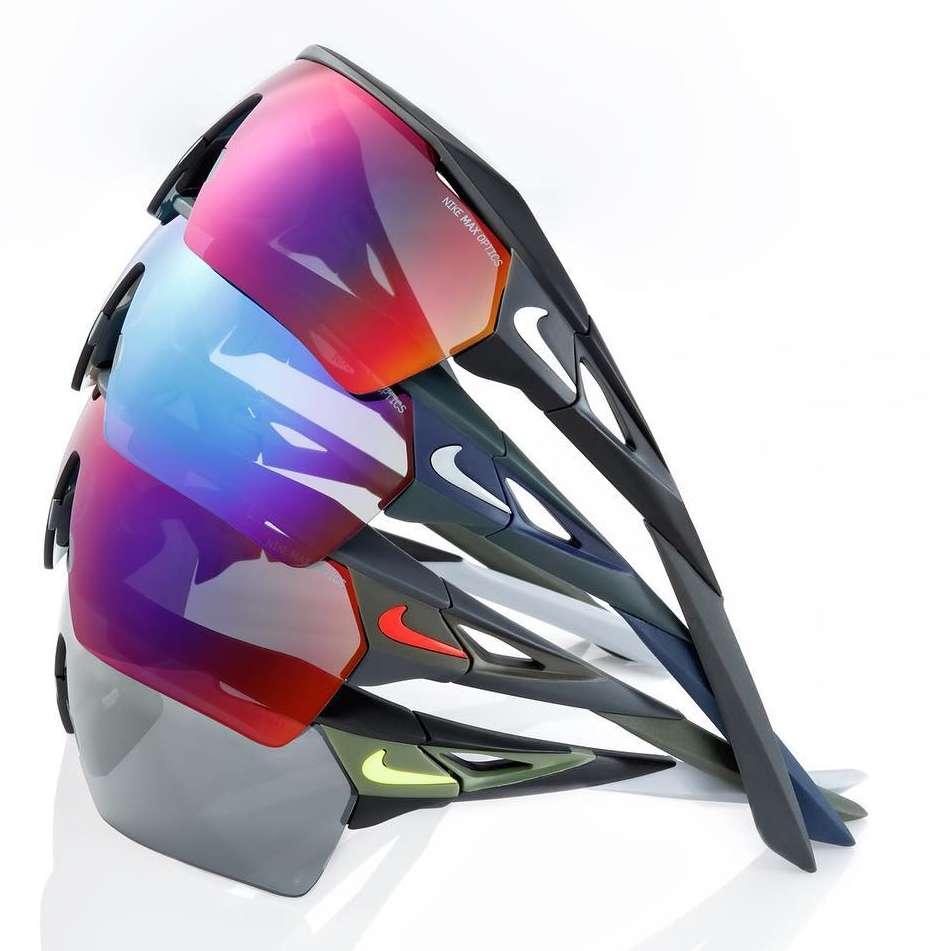 Nike Vision makes it easy for those with a prescription to have the ultimate visual experience on a variety of occasions. Whether on the baseball or tennis field, and even training, individuals can experience a sense of ease in the latest Nike glasses designs.
Gone are the days where you have to wear multiple layers of glasses to get basic, optical functions. With Nike prescription sports glasses, individuals can enjoy dual functioning with ease, that is, uncharted optics and prescription tailored to their unique visual perspective. But there's more. These Nike sports glasses were built with great durability and precision, ensuring that the toughest challenges can be met with visual excellence. Individuals get the opportunity to wear the latest styles and ultimately enhance their performance–what's not to love? Nike prescription sports glasses provide great flexibility and are ideal for multiple sporting events, allowing them to be worn on and off the field. And because they're extremely stylish, you can easily mistake them for your everyday eyewear. But not to worry, as these Nike glasses were made to be considerable of comfort, making them suitable for long periods of wear. These Nike glasses for sports are also highly protective and can provide confidence against physical obstacles that one may encounter in a host of environments–weather, flying debris, and moving equipment–all in an effort to protect one's vision. So let's face it, with Nike prescription sports sunglasses, you get more than your average frames. You get everyday optical solutions for the sporting challenges and opportunities ahead.