Safety glasses are a fundamental resource if you work in an environment where there is flying dust and other debris, or if you often play sports outdoors. Eye protection must be take very seriously in those contexts, as any accidents can cause severe problems and even lead to blindness.
It's important to know that regular prescription glasses do not meet safety standards that guarantee the protection you need in hazardous situations. Therefore, if you already wear prescription glasses and also need to wear safety glasses for proper protection, there are usually two options you can choose from: either purchase safety glasses that are prescription available, or get safety glasses that fit over glasses.
BEST SAFETY GLASSES THAT FIT OVER GLASSES
WHAT ARE FITOVER SAFETY GLASSES?
Safety glasses that fit over glasses are frames that are specially designed to be worn over other glasses. Besides being extremely lightweight and durable, fitover frames provide complete protection for you to do your job without any worries.
Security is one of the most important aspects to take into consideration, and safety glasses over glasses provide exactly that: they meet rigorous industry safety standards for optimal protection and are both ANSI Z87+ and OSHA approved.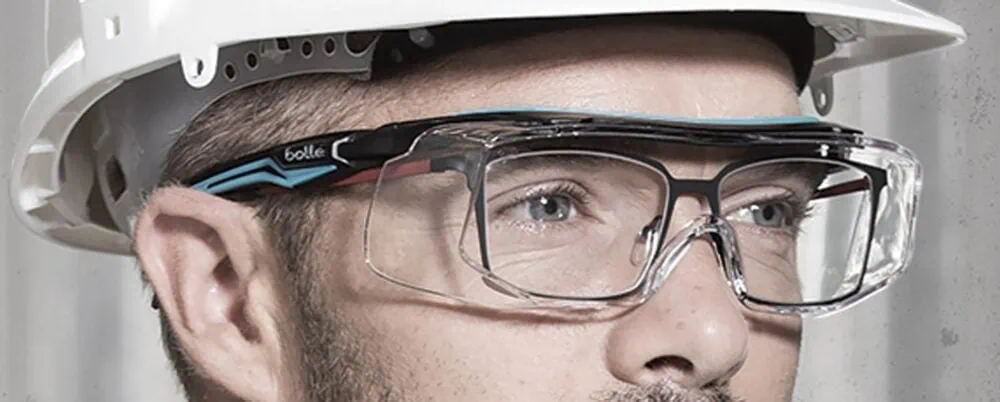 As mentioned before, both prescription safety glasses and fitover safety glasses are good alternatives for eye protection if you already wear regular prescription glasses. What are the differences between both options? Here you can find the answers for your questions and decide which one best fits your needs.
PRESCRIPTION SAFETY GLASSES VS SAFETY GLASSES THAT FIT OVER GLASSES
Prescription safety glasses are, as the name suggests, safety glasses whose lenses are available with prescription. With them, you have two glasses in one, as they can be used while working but also for regular activities. As long as they meet the required industry safety standards, you are protected while seeing clearly from the one frame you wear.
Fit over safety glasses, on the other hand, are an additional frame that you add on top of your regular frame. With them, you can keep wearing your usual glasses, in any style you want, and add an extra layer of protection while you're on the job. With them, you don't have to worry about removing your safety glasses and not being able to see correctly, as your prescription glasses are right under them.
TOP SAFETY GLASSES THAT FIT OVER GLASSES
SHOP ALL OVER THE GLASSES SAFETY GLASSES
WHAT IS CONSIDERED A
FITOVER FRAME
Fitovers are frames that maintain the protection you need while providing an extensive level of comfort for the entire day. They are larger than your prescription safety glasses and come in all kinds of designs, always focused on fitting on top of your existing pair of glasses.
Safety glasses that fit over glasses allow you to maintain the highest level of protection and comfort while avoiding the investment in a separate pair of prescription safety glasses. In addition, for them to be considered fitover safety glasses they must have ANSI Z87+ certification, which is your guarantee that your eyes are properly secured.
THE BEST FITOVERS FOR YOUR
WORK ENVIRONMENT
Your work environment has a great influence on what kind of fitover safety glasses are the best for you, as different conditions require different safety equipment. If you work with flying debris that come from different sides, for example, wrap around frames are ideal because they provide additional lateral protection.
If you constantly have to work with heights, you might consider getting safety goggles that fit over glasses. Fitover safety goggles are a great alternative because they feature straps which keep them in place.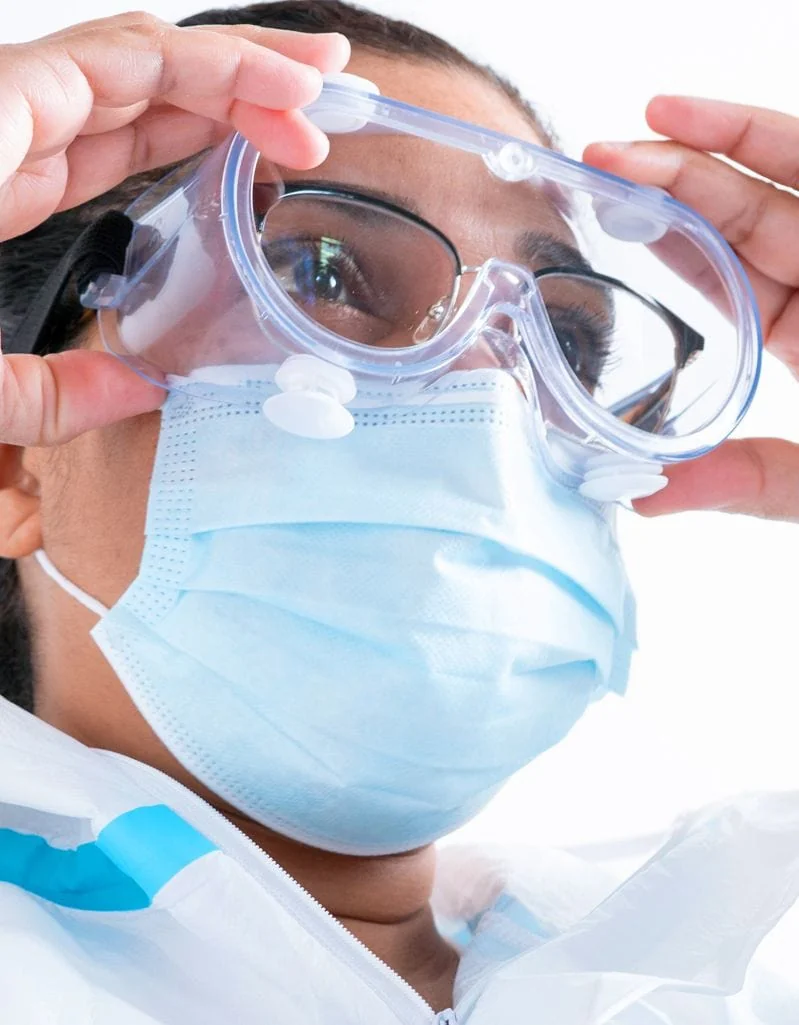 SHOP FITOVER SAFETY GLASSES
NOT SURE WHICH FITOVER
SAFETY GLASSES TO GET?
RX SAFETY CAN HELP YOU
At RX Safety we have a wide variety of fitover safety glasses available in different shapes, sizes, and colors. This allows us to accommodate many individuals with unique eyewear needs. With our large range of colors and designs that complement any style, you can have the quality and protection you deserve.
Give us a call or contact us online. We'll be happy to help you choose your next safety glasses that fit over glasses.

FITOVER SAFETY GOGGLES
Check the new Fit Oveer Safety Goggles with Fan

SAFETY GLASSES THAT FIT OVER GLASSES