Best UV Protection Sunglasses: Brands To Look For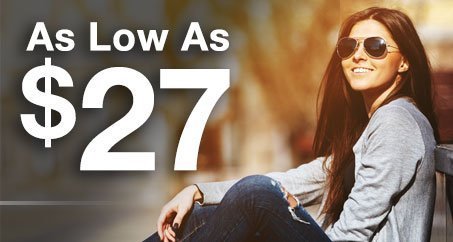 The sun gives off two types of harmful rays, UVA (short) and UVB (long). Both of these can cause damage to our skin and eyes. Without proper protection, these rays can cause sunburn and skin cancer. They can also damage our eyes. They can cause cataracts, destroy the retina, cause tissue to form over the surface of the eye, cause macular degeneration, and cancer. One should always wear sunglasses when outdoors, winter/summer, sun or clouds.
When considering sunglasses, one should look for more than a designer name or a fashion statement. Read the label. The label should state, 'blocks 99-100% of UV rays', 'UV absorption up to 400nm', or 'meets ANSI UV requirements'. If sunglasses do not meet these requirements, don't buy them.
For everyday eye protection, Ray-Ban tops the list. This well-known designer offers a multitude of affordable colors and styles for men and women, all of which meet UV protection requirements.
For more designer looks and styles, Lacoste, Smith Optics, Jack Spade, and Carrera offer variety and fashion while protecting against harmful rays. Offering an endless array of stylish frame options, lens sizes, shapes, and colors, you're sure to find the perfect pair to match your style while ensuring that your eyes are protected.
If you are looking for more sporty shades, WileyX, Nike, and Spy will fill your order. These designers, known for their sports inclined sunglasses, offer durability and comfort with goggle and wrap around styles. They offer ultimate UV protection in a multitude of colors for every exposure and sport to enhance vision and cut glare anytime and anywhere.
For the extreme sport enthusiast, Wiley, ESS, and Bobster blaze the trail. Known for their tactical glasses, they will fill every need for protection, performance, wearability, and style. These glasses are made to stay put in extreme situations and protect eyes from more than the sun.
It is extremely important that children wear sunglasses at all times when outside. Eye damage is cumulative, meaning that it continues to grow as eyes are left unprotected. Starting as babies, protection for the eyes is critical.
Julbo offers a complete line of eye protection sunglasses for babies and children. From infants to teenagers, everyone will find a style and fit to grow with.
The size and fit of sunglasses are as important as the UV protection. Sunglasses should protect as much of the delicate area around the eye as possible. Choosing oversized lenses and wrap around styles will protect more area while allowing less light to filter in from the sides. They should fit snuggly and comfortably, staying on the bridge of the nose. The weight should be balanced between the nose and the ears.
Dark or black lenses do not necessarily block more UV rays. In fact, they can cause the pupil to open wider, allowing more light into the eye if sides are open. Polarized lenses block glare, not UV rays. Brown, orange, or amber lenses block more HEV (high energy visible) rays or blue light.
While sunglasses are made for a variety of specialty functions, all should have sturdy construction, versatility, and give clear vision and UV protection.
While designer brand sunglasses can get a bit pricey, most designers have offerings for under $100. The important thing to remember is that name, style, or color are not as critical as UV protection. There are many less expensive brands that, so long as they meet UV protection requirements, protect the eyes just as well.
There are certainly sunglasses to fit every style, need, and price range. To find your perfect pair, contact us. We offer hundreds of choices for every situation, and will be happy to assist you in finding exactly what you're looking for.