Replacement Prescription Lenses for Oakley Sunglasses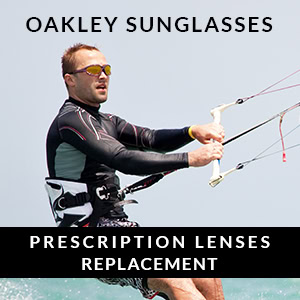 Oakley eyewear is the standard for sunglasses, their frames, nicknamed "Oakleys," are so popular that you'll see them worn by many famous celebrities. Oakley's sunglasses are much more than just a fashion statement. What makes them popular is their innovative lens technology and slick design that most athletes and average users appreciate, but what happens if the lenses in your Oakleys become scratched, cracked, or happen to shatter?
Accidents can happen, but instead of shopping for a new pair of sunglasses, why not just replace the lenses? Here at Rx-Safety, we can replace your prescription lenses for your Oakleys. Not only can we replace damaged lenses, but we can also change them if you're in need of a new prescription or different colored lens in your sunglasses.
Our Lens Replacement Service is located on our website, and with these easy steps, you can replace your lenses:
Shop your lens replacement frame type
Design your Lens
Package and mail your frame to our address
Wait for a delivery and receive your custom prescription glasses
Styles of Frames
Before you send your sunglasses to us, you need to start by selecting your frame type in order to determine what kind of lens you'll be having installed. If you are unsure what frame type your Oakley is, here are the main five:
Eyeglass and Sunglass: traditional oval shape that is connected to all parts of the frame that improves your vision in front of you. The lenses are flat and can come in other shapes like oblong, square, round, base-down, and more.
Safety Eyewear: protective eyewear that prevents particles, water, or chemicals from reaching your eye. The frame encloses the eyes shielding the top, bottom, and sides of the frame. Often used in laboratories, woodworking, winter, and snow sports.
Wraparound: a curved lens that provides a wider view for the wearer. The semi-circular frame shape increases peripheral vision. Many athletes prefer this because it gives them a wider field of vision.
Rimless and Semi Rimless Eyewear: rimless eyewear has no frame around the lens. They are very lightweight and comfortable to wear. Semi Rimless glasses are half of a frame connected to the lens. These lenses have a slight curve.
Wrap Free Form: similar to wraparound frames, but with a semi-rimless frame. The lenses have a curve to them and increase peripheral vision.
Keep in mind that not many pairs of Oakley sunglasses are made in a safety eyewear frame style. There are, however, many with wraparound, rimless, semi-rimless, and regular frame styles. If you are still unsure of what frame type your Oakleys are, find the model name, and you can contact us on our website for the answer.
Designing your Lens
Once you have selected the frame style for your Oakleys, you now have to customize your lens options. We provide a variety of options to create the right lens for your pair, and it begins by choosing the lens type and material. The options are single vision, lined bifocals, or progressive bifocals. You then need to choose the lens material. Polycarbonate lenses are usually the standard as they are lightweight, thin, and impact resistant, but we also offer Trivex lenses which are lighter, impact resistant, and have superior clarity.
You then need to choose the color of your lenses. The color options are gray, light gray, dark gray, American gray, brown, yellow, orange, and light pink. Our transitional lenses will change from clear to your desired color. We also offer clear lenses with or without blue blocker to block out harmful blue light.
Once you decide the color lens you want, you have the option of adding lens coatings. We recommend adding at least one option as the three options we offer are designed to protect your eyes from a variety of hazards, and to provide you with clear vision. You have the option to include a scratch-resistant coating in order to prevent large gouges and smaller scratches. For extra protection from the sun, you can add UV Protection Coating to protect your eyes. The third coating option you have is an Anti-Fog Coating. If your Oakleys are exposed to temperature changes or humid conditions, we recommend this coating because it prevents water buildup from smudging your lenses.
We also offer two types of Anti-Reflective (AR) Lens Coatings. An AR coating is great to have on your Oakleys if you are in front of an electronic monitor for long periods of time, suffer from eye strain, or drive at night consistently because it eliminates distracting glare from direct and indirect reflections. If you have high index lenses, we recommend including an AR coating due to the high reflective properties of the lenses. The two types we offer are a standard AR coating and AR Coating with Blue Blocker. Our Blue Blocker Coating blocks harmful blue light by adding blue light protection on the front of the lens and a blue hued AR coating on the backside for maximum glare reduction.
Another option we have is mirror coatings. Many people enjoy mirror coatings on their Oakleys because it is a one-way mirror where you can see out, but no one can see in. This is what gives Oakleys their signature look. Not only are mirror coatings stylish, they protect your eyes as well. They make your lenses extremely effective at reflecting glare, blocking harmful UV radiation, and more durable and scratch resistant. For all of those reasons we also recommend a mirror coating for most sunglasses. We offer colors like; blue, gold, red, green, and silver; silver being one of our most popular colors.

Final Instructions
After you have customized your lens, you then need to give us your prescription. This will come up in the next window once you have clicked "Next". If you have your prescription in a PDF format, you can easily upload it in the dropbox link on the top of the screen. If you do not have a digital file, you then have to manually input the information in the necessary fields.
After that, you will need a shipping label. You have the option of a prepaid label from us that will be emailed to you, but you also have the option to apply your own label instead. Our address will be included with the prepaid label, but if you apply your own, you can find our address on our website or by using Google. You may also provide comments for us about your pair of Oakleys, or special instructions for shipping. Once you have completed this section, you are finished customizing your sunglasses and all you need to do is fill out the billing and shipping information. You can expect your Oakleys back in around 7-10 business days.
If you have any questions or concerns during the process, you can call us anytime to find out the progress of your order. If you want to change parts of your order, we recommend you call us immediately before our technicians begin work.