The Difference Between 1.67 and 1.74 High Index Lenses….And Whether It's Worth It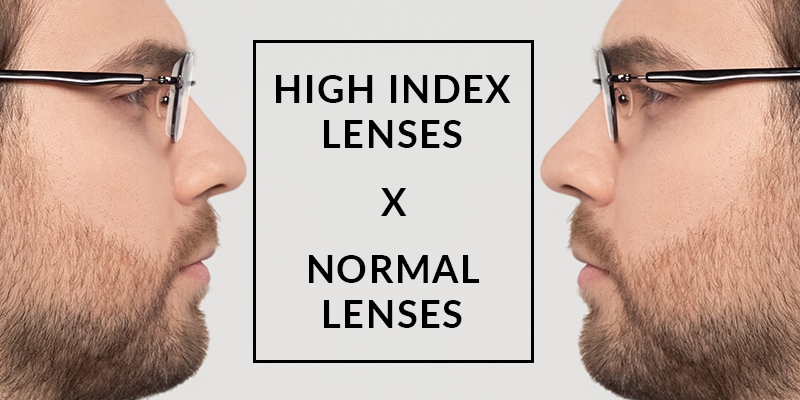 When you're choosing the perfect pair of prescription lenses, there are plenty of things to take into account, but one of the major things you'll want to think about is the types of lenses that will best work for your eyes. That is, of course, the main point in choosing prescription lenses- making sure that you can see as well as possible! Your prescription does play a major role in the type of lenses you might decide on, and one option that is open to you is high index lenses. If you're wondering whether these types of lenses are a good option for you, this is everything that you need to know.
What Are High Index Lenses?
High index lenses are lenses that have a higher "index" of refraction. In layman's terms, this means that they have a greater ability to bend light rays and therefore can be thinner around the edges, unlike traditional lenses. This means that they can provide clear vision support to people who have stronger prescriptions and more difficulty seeing.
What is the Difference Between Regular Lenses and High Index Lenses
With regular eyeglasses lenses, the center of the glasses is thinner and the outer edges are thicker to facilitate refraction which is what makes prescription glasses work! High index lenses have a higher index of refraction than regular lenses, which means they don't need to be as thick around the edges to be effective.
What are the Benefits of High Index Lenses?
High-index lenses mean that the lens itself can be both thinner and lighter. This allows your glasses to be as fashionable and comfortable as possible. High-index lenses are particularly beneficial if you have a strong eyeglass prescription for nearsightedness, farsightedness, or astigmatism. However, even those with a low eyeglass prescription can benefit from high index lenses.
Most of the people who wear glasses are nearsighted, which means that the corrective lenses that they wear are thin in the center but thicker at the edge of the lens. The stronger their prescription is, the thicker the edges of their lenses are. This would be fine, except for the fact that rimless frames and many other popular frames can't accommodate lenses wide enough to accommodate the needs of those who have higher prescriptions, or if they can, the lens edges are visible and can detract from the look of the glasses overall.
High-index lenses solve this problem. Because they have a greater ability to bend light rays, they don't need to be as thick around the edges to be effective. This makes them the perfect option for people who want a particular style of frames but need to make sure they can still actually see!
What is the Refraction Index?
Eyeglasses correct refractive errors in your eye by bending (or refracting) light as it passes through the lens. The amount of light-bending ability that you need in order to see clearly depends on your prescription, which is indicated by your eye doctor.
Depending on your prescription, you'll need lenses of different diopter strengths. If you are farsighted, the lenses are usually thicker in the center and thinner around the edge and you're prescription will use "plus" measurements to indicate the degree of thickness needed in the middle of the lens to be effective. On the other side of the spectrum, if you are nearsighted your lenses are thinner in the center and thicker around the edge. These lenses use "minus" measurements to reference the degree to which these lenses are thinner in the middle compared to the edges.
A high-index lens can be thinner while still effectively bending the light so that it corrects your vision. Because the lenses are made of a lighter weight material, they are ideal for farsightedness. Farsighted glasses can easily become quite heavy, and by using lighter lenses, the glasses are generally more comfortable.
In addition, prescription glasses for farsighted prescriptions can sometimes result in a bug-eye look because the thickness of the lenses magnifies the wearer's eyes. High-index lenses don't have this problem because they are made with an aspheric design. The aspheric quality of the design of the lenses helps keep the center of the lenses thinner so that the curvature is flatter, which means your eyes won't be as magnified.
Depending on the prescription you're looking for, a different index of refraction will be needed to make sure that you can see perfectly. The index of refraction is determined by how fast light can go through the material. The more that light has to refract, the slower the speed of light is going through the material. This means that the more efficient the lens is for refracting the light, the higher the index of refraction is for the lens.
A lens is high-index when the refractive index exceeds that of plastic or glass, as are used in most traditional materials. The general range of refraction is around 1.53 to 1.74. When the refractive index is 1.7 or more, the lens is usually about 50% thinner than it's glass or plastic counterpart would be.
Most lenses these days come in high index materials such as the following:
Progressive
Polarized
Photochromic
Aspheric
Polycarbonate
They are typically able to be used the same way as traditional lenses including the application of blue light reduction coatings, UV protection, anti-reflective, or scratch-resistant coating so that you can have all the protective benefits of those features in addition to your high-index lenses.

Why You Should Get High-Index Lenses?
High-index lenses are ideal for anyone who wears any kind of glasses. Whether you are nearsighted, farsighted, or have astigmatism, you might benefit from high-index glasses. It all really depends on your personal preferences and, most importantly, your prescription. High-index lenses are more expensive, and if you're considering making the investment, it's good to know why you should or should not splurge on them.
In a nutshell, if you have a prescription below a -3, there isn't really any reason to invest in high-index glasses because they won't look any different to the human eye and there won't be any real benefit to the higher-index lens. The difference between 1.67, which is considered regular index and 1.74 is quite small, and really, the only way you'll notice the difference is if you have a prescription below a -6 or above a +4.
However, if you are in need of a very strong prescription, it is absolutely worth the additional cost! Your glasses will be more comfortable and more flattering, and that will improve your quality of life overall.
Types of Lenses if High-Index Lenses Aren't for You
After reading everything about high-index lenses, you may have decided that they aren't necessary for you, but that doesn't mean that you shouldn't still do your research on other lens options! These are a few other lens types that might work for you if you don't think you want to splurge on high-index lenses:
Clear Lenses– Clear lenses are, of course, the most basic lens choice. They correct your vision effectively, but typically traditional clear lenses won't impair your vision as some other types of lenses might. You'll be able to see everything you need to in almost any light, just as you would be able to if you had 20/20 vision. They also have the benefit of highlighting your natural eye color, and they're the least expensive lenses you can choose for your glasses.
Clear with Blue Blocker– Especially lately, we have been spending much of our time staring at TV screens, computer screens, and phones. These glasses have been designed to block the blue light from those screens more effectively than clear lenses. These lenses block all ultraviolet light up to 420 nanometers, which might cause damage to the cornea and lens of our eyes. They also protect people from headaches and dry eye that occurs as a result of looking at screens so much. Blue blocker lenses reduce eye strain which makes your eyes more comfortable throughout the day, and they can be used in almost any frame, and they can make a huge difference in your overall eye health.
Transition Lenses– One of the worst things about wearing glasses is the inconvenience of having to switch from prescription glasses to prescription sunglasses every time you step outside. Transition lenses are an excellent solution to this issue. These lenses provide you with effective protection both indoors and outdoors, without having any tint while you're inside. These are some of the best lenses you can get for protection from the sun and blue light because they are light intelligent. They block UVA, UVB, and blue light both indoors and outdoors, so your eyes will be less tired and you won't have to worry about forgetting one pair of your glasses. There are several colors that these lenses come in:
Transition Grey Lenses- Grey is a sophisticated look that's also very functional. The grey tint minimizes glare, especially from the water, and they still look natural.
Transition Brown Lenses- Brown lenses are a great choice for optimal performance in all conditions. They enhance contrast and have a red element which helps with your depth perception. Transition brown lenses are particularly popular when driving or playing sports because they protect your eyes from UVA and UVB rays while enhancing your ability to see in bright conditions.
Transition Vantage Lenses- These transition lenses specialize in reducing glare that can cause eye strain. They give you crisper and more detailed vision, while still protecting your eyes from UVA and UVB rays.

If you're looking for the best type of lenses for your prescription, chances are that you'll be looking for a wide variety of options. At Rx-Safety, we know that there's no one-size-fits-all solution for people who need prescription glasses and we are devoted to providing as many high-quality options to our customers as possible. If you're looking for your next pair of glasses, look no further than Rx-Safety. And if you need additional input, contact us! Our team would love to help you.