What is the Average Cost of Prescription Sunglasses?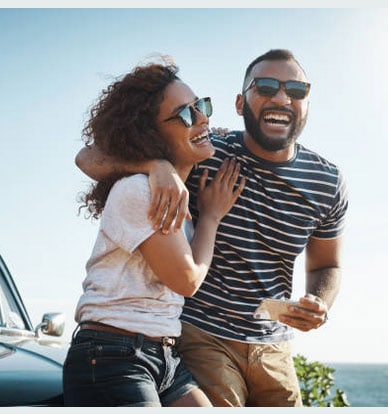 When you need to wear glasses to correct problems with your vision but spend a lot of time outdoors, you may be looking to invest in prescription sunglasses. These can be helpful whether you are outside a lot because of work, recreation or simply because your location receives a lot of bright sunlight. Cost should not be the only thing you consider when purchasing protective eyewear. However, given that the price of non-prescription sunglasses can be incredibly high, you will obviously be thinking that a pair with prescription lenses will be even pricier. Is that really the case? Well, yes and no. The average cost of prescription sunglasses will depend on several key factors. In the following post, we are going to help give a definitive answer to the question posed in the title of what the average cost of prescription sunglasses is, as well as looking at the different options open to you.
Do You Want a Branded Pair of Sunglasses?
One of the biggest factors that can determine whether you are going to pay a lot of money or not much money at all on sunglasses, in general, is whether you go for a branded model or not. That same factor effects, as you'd imagine, the price of prescription sunglasses. For instance, if you stick to any old cheap knock-off frames and the very basic prescription lenses, you may only need to pay out $80 to $100.
If you are careful, the quality may not even be that different from a named brand. If you want a named brand, you need to be prepared to pay a little more.
Some Popular Options to Consider
To give you an idea of what you might need to pay when buying prescription sunglasses, we've selected some of the popular options we have for sale at RX-Safety, with a full breakdown of the price.
WileyX Brick Sunglasses
Consider first the hugely popular WileyX Brick frames, an affordable pair of safety glasses made with robust and durable triloid nylon and featuring a memory flex facial seal that is symmetrically vented to ensure air is allowed to enter around the glasses area freely. The temple socks that rest around your head and over your ears are made from neoprene for superior comfort and stability.
For a standard pair of these sunglasses with your prescription, you can expect to pay an impressively low $135. However, that is the price for just a single vision, whether it's distance or reading-style lenses, without any additional extras.
Oakley Latch Beta Sunglasses
At the other end of the price range, we have this, frankly, stunning pair of sunglasses from Oakley. The Latch Alpha model. It is based on the double-bridge and bold lens design of their Latch Alpha glasses and introduced a lighter O Matter frame and the kick-up latch feature.
The cheapest you can get these as prescription sunglasses are with the Matte Light Gunmetal frame and lens color, for $193. As with the WileyX pair, that is only if you want a standard pair of single vision glasses with no extra customization.
With both pairs, the price increases depending on the extras you would like and need.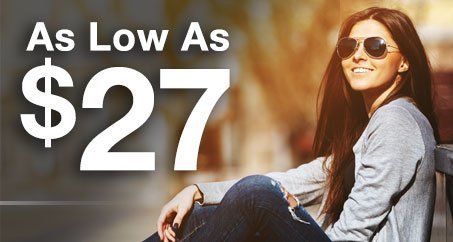 Let's stick with the Oakley pair to further discuss the impact various options will have on the final price you pay.
The Lens Type
Now the price we discussed is for sunglasses with single vision lenses. What if you wanted or better yet, needed progressive or lined bifocal lenses though? For lined bifocal lenses, the price would increase by $25, whereas if you wanted to benefit from Progressive bifocal lenses, that is, without the line separating the visual zones, it would be an additional $35.
The Lens Material
Sticking with Oakley still, the original price includes as standard, polycarbonate lenses, which are thin, light and impact resistant. However, if you wanted the benefit of better-quality lens material, like Trivex which offers a superior level of clarity, is impact resistant and even lighter than polycarbonate, you'd need to spend $15 on top for the benefit. If you wanted an even better pair lens, like the standard glass we have available, that would cost $45 more, for superior optics, scratch resistance, and a much heavier and robust feeling option.
The Lens Color
As with the other options, the price we cited initially for this pair of Oakley Latch Beta sunglasses features the standard clear colored lens. If you wanted to improve the quality of the lens and need it to block out certain colors or would like one of our high-performance polarized options, it could cost anything between $12.50 and $90 on top. And even that price is just for polycarbonate single vision lenses.
The Lens Coating
Moving on, the final choice you would need to make when customizing your prescription sunglasses that could affect the average price is the lens coating. It really depends on what you need your eyewear for. If It's just for getting from a to b or casual wear, you may not need fancy mirror coating or anti-reflective coating. However, if it is for use while on the job or while you are participating in sports, having a suitable type of lens coating may make all the difference between how long your glasses last and how effective they are at offering the level of protection you need.
For anti-reflective coating, it can cost between $40 and $50 on top of the original price, whereas mirror lens coating is an additional $50.
So, if you are in the market for a pair of prescription sunglasses and are wondering how much the average cost is, we have given you a lot of food for thought. The bottom line is, it all comes down to what you need and how customized you want them to be. If none of that bothers you, then you can get a relatively cheap pair of prescription sunglasses, but if you are interested in the finest materials and best coatings, be prepared to spend a little extra. Don't worry though, as it's worth it.